As of the 2016/17 racing season, older helmets may not be used for Giant Slalom
Compliant helmets must have the following sticker on them in order for the racer to race GS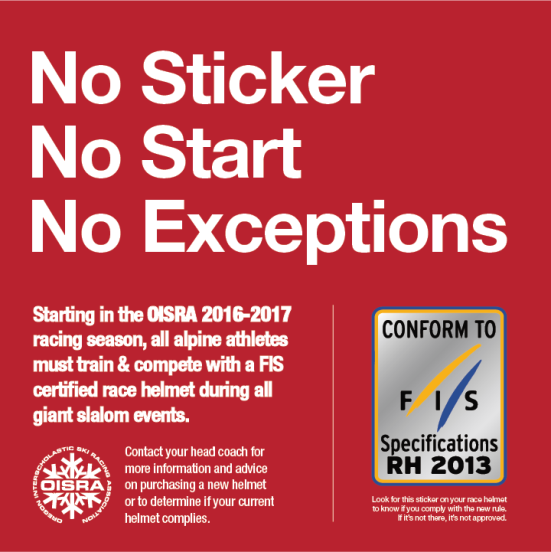 Here's some important info about new OISRA requirements for GS helmets for all high school ski racers in 2017.
This year we will enforce a "No Sticker, No start, No Exceptions" rule when it comes to using FIS approved helmets for GS competition. This does not apply to SL races.

What you need to know:
Hard-eared helmets are always required for GS, which is an existing rule.
The new rule goes into effect for the 2017 rseason.
What helmets will be legal?
Helmets labeled as "FIS RH 2013" compliant (see example in picture above)
Helmets with this sticker will be legal
Racers wearing helmets without this sticker will not be allowed to race GS beginning in 2017.
See
Alpine Race Rules
-
Section 2, A
for regulations concerning all ski racing equipment.
Shred and Poc offer "FIS RH 2013" compliant helmets.
All coaches should be aware of this new rule. Any questions please contact your coach.